JOHN VIOL DAI SHIHAN MENKYOKAIDEN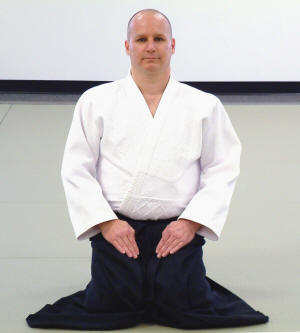 John Viol Shihan is the Seishinkan USA and Kyoto Japan chief instructor. John Viol Shihan began his martial sciences career in 1967. He lived in Japan and Okinawa for nearly 20 years while he trained, tested, and earned his martial science licensure. In 1991 at a special ceremony in Kyoto, John Viol was awarded the highest level proficiency license one can achieve in the classical martial sciences - the Menkyokaiden. He is currently celebrating his 42nd year of non stop hard core warrior training.
Viol Shihan was classically trained in bona-fide warrior martial sciences. His achievements in the martial sciences involved validation through the menkyosei - the original warrior licensure system. During his long stay in Japan, Viol Shihan also earned many very high rankings in several modern civilian / "Do" arts like Karatedo, Judo, Aikido, Kendo, etc. however, his involvement in those arts was primarily an exploratory and information gathering process.
In an article by the Japanese press about Viol Shihan, it was stated that no other westerner has been responsible for or done more to promote and preserve the original classical warrior systems outside of Japan. It stated further that no other westerner has done more to open the doors for westerners to gain acceptance and exposure to the very reserved classical martial science systems.
In the coming days, much more information about John Viol Shihan and his remarkable career will be featured here. A great deal of information regarding John Viol Shihan is being received from many people around the world. As the information is sorted and organized, we will post some of the highlights here.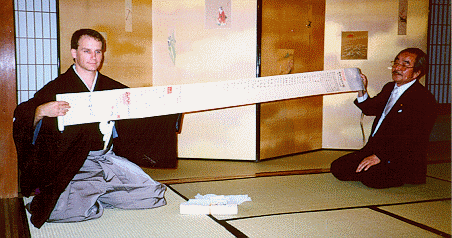 John Viol Shihan receiving Menkyokaiden in Kyoto Japan 1991
John Viol Shihan Martial Career Highlights
Compiled by I. Noguchi
Began martial sciences career in 1967
Lived and trained in Japan / Okinawa for 20 years - since 1977. Spent some time in Korea

Trained with and consulted members of US, Japanese, and Korean Military / Police forces

Served 3 terms in Japan as an Uchideshi - live in student - 24/7 professional training

Received full time around the clock mentoring to become professionally licensed instructor

4 time All Japan Invitational full contact bare knuckle fighting champion - Undefeated

The only non-Japanese to achieve this
Nicknamed Kazan (Volcano) by the Japanese press for his explosive volcanic fighting nature
Not just an unbeatable fighter, he also won Kata, weaponry, and Enbu divisions

First person in North America to earn Toyama Ryu rank and instructor grades - 1977

Learned Toyama Ryu from Japanese Military officers on Japanese military bases
First person / Dojo in North America to receive commission to instruct Toyama Ryu
Most senior western authority on Toyama Ryu
Presented with commendation from a member of the Japanese Imperial family at a Toyamaryu grand meeting

First and only non-Japanese to be admitted into elite Yagyuryu martial disciplines

Honored to have been requested to perform special sword ritual at Yagyu clan grave site - the first foreigner to have been asked. Event was covered by the Japanese media

One of the only non-Japanese to own and operate a full time martial Dojo in Japan.

His Dojo in Japan offered a full range of Sogo training, swordsmanship, and cultural exchange programs recognized by city and government authorities. Classes were attended by a great many Japanese and students / instructors from many countries.

In 1997, Viol Shihan was awarded the title of Cultural Ambassador in Japan.

This honor was for his role in the promotion and preservation of classical martial sciences as well as for his cultural exchange contributions.

Appointed the sole United States representative for the All Japan Sogo Bujutsu / Budo Federation.
Elected Chief technical advisor for the International Martial Sciences Federation IMSF.
More highlights will be added soon
Classical martial AND modern tactical training is the true Warrior way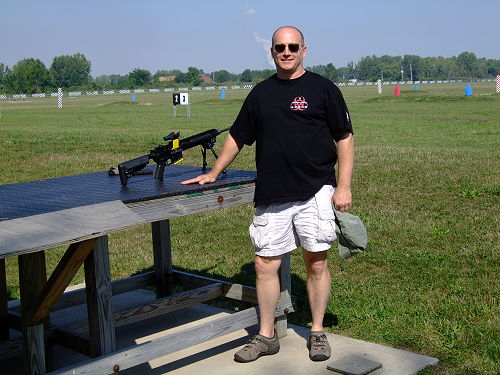 John Viol at Camp Perry shooting AR-15 by Knight's Armament
Read more - Links to John Viol Shihan pages, photos etc. on the original Seishinkan site
John Viol Shihan In Person
John Viol Shihan travels around the world as a cultural ambassador representing and instructing authentic classical martial sciences. You or your group can bring much recognition by hosting / sponsoring an event presented by John Viol Shihan. Events presented by Viol Shihan generate much attention. Events are announced through a very large martial network. Participants at his events travel great distances to gain exposure to the unique technologies he can offer. The majority of participants are very senior level practitioners that know the value of the information being offered providing everyone in attendance with an outstanding experience.
Viol Shihan possesses specialized knowledge and historical truths that only a classically trained and menkyo licensed instructors can attain. This specialized information is not available to the common martial arts practitioner. Consider the opportunity to gain exposure to this type of information and learn from someone of this caliber who is willing to bring it to your location. All events are custom formatted and personalized by Viol Shihan and his assistants. John Viol Shihan is available for:
Training
Seminars
Samplers
Clinics
Certification
Camps
Workshops
Speaking / Lectures
Professional Consulting / Advising
Instructor Licensing
Technical Instruction
Evaluations / Validations
Battle Blog - Blog by John Viol Shihan
John Viol Shihan Japan Photos