MARTIAL PROMOTIONS
JOKYO LICENSURE FROM JAPAN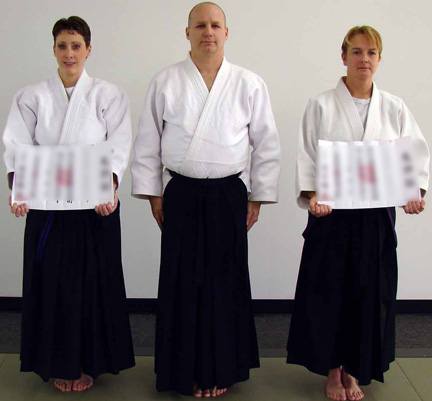 Martial history was made in Novermber 2006 when Rhonda Bagaglio (Left) and Jennie Dieter (Right) earned their Jokyo license from Japan. Rhonda and Jennie are the very first females outside of Japan to earn such a high level of licensure in classical martial sciences. Rhonda and Jennie advanced through an intensive three year validation process that was conducted in the same way it has been for generations of warriors. The Jokyo licenses from Japan were presented by John Viol Shihan (Center) at a special ceremony.
YUDANSHA CERTIFICATION FROM JAPAN
Yudansha rank certificates directly from Japan were recently presented by John Viol Shihan to many Seishinkan students in recognition of their continued efforts to perpetuate authentic classical martial sciences. Several received more than one promotion and certificate.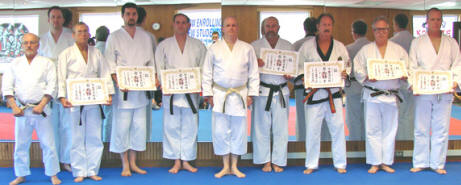 Pictured above are some of the recent martial rank promotion recipients. From left to right - Gary Nepper, Michael Trader, John Paxton, Ciprian Robu, Louis Begue, Presenter of certificates - John Viol Shihan, certificate recipients - Dan Confer, Greg Boliard, Mark Szof, John Parks. Complete list of all recipients below.
SOGOBUJUTSU
Rhonda Bagaglio Yondan March 1 2007
Jennie Dieter Yondan - March 1 2007
Brian Glass Sandan - March 1 2007

SOGOBUDO
Gary Nepper Godan - March 1 2007
Mike Dunphy Sandan - March 1 2007
Dan Confer Sandan - May 1 2007
Mark Szof Sandan - May 1 2007
John Parks Sandan - May 1 2007
Michael Trader Sandan - May 1 2007
John Paxton Shodan - May 1 2007
Greg Boliard Sandan - May 1 2007
Lou Begue Shodan - May 1 2007
Ciprian Robu - Shodan May 1 2007

KARATEDO
Mark Szof Godan - May 1 2007
KARATEJUTSU
Brian Glass Sandan - June 1 2007

IAIDO
Kevin Hough Yondan - March 1 2007
Ciprian Robu Sandan - March 1 2007
Rick Brady Yondan - March 1 2007
Greg Boliard Nidan - May 1 2007

JUJUTSU
John Parks Godan - May 1 2007
Michael Trader Godan - May 1 2007