SEI SHIN KAN KAKUSHI BUKI JUTSU SAMPLER SERIES
SEI SHIN KAN SUNTETSU JUTSU
A Suntetsu is a metal rod/spike about 6 inches in length with a ring attached to it. The middle finger is inserted into the ring and the Suntetsu rests in the hand by various grips. Suntetsu are small, easy to conceal and relatively simple to learn how to use. Suntetsu are used for stabbing, poking, pinching, striking, smashing, scraping and throwing. You can use a single Suntetsu or a pair.
Authentic custom made Suntetsu are available at Sakura Martial Arts Supply Co.
SUNTETSU BASIC GRIPS

The Sei Shin Kan Sogo Budo Dojo is currently the sole United States representative of the All Japan / International Buki Jutsu Federation. A Sei Shin Kan Suntetsu Seminar Sampler will introduce participants to the background of the Suntetsu, the various gripping methods, blocking techniques, striking actions with combinations, pressure point applications, grappling usage, formal engagement exercises and much more. Seminars usually run about 2 hours and the fee includes one Suntetsu. Participants can also receive a certificate of participation. Instructors may inquire as to how to become certified to teach Suntetsu Jutsu and conduct Seminars.
Suntetsu Jutsu Seminar Samplers are expertly conducted by John Viol Shihan, 32 year career full time professional martial arts instructor who was certified in Kakushi Buki Jutsu during his three terms as an Uchi-Deshi (live in student) in Japan.
Hosting one of the Sei Shin Kan Seminar Sampler events is a great way to draw attention to a school / club / organization. All events and details are put on BattleGround, our Web Site, for thousands of people to see. Sponsors can generate a considerable amount of income for their group with one of our Seminar Samplers. Seminar Samplers are endorsed by Sei Shin Kan International, The All Japan Sogo Budo Federation and the International Kakushi Buki Jutsu Federation.
If you wish to participate in a Seminar or host a Suntetsu Seminar Sampler, please send your request.
SEI SHIN KAN SUNTETSU JUTSU WAZA
Below are some sample pictures from a recent Suntetsu Seminar Sampler. Click an image to see it larger - Use your Back button to return.
SEI SHIN KAN BUKI JUTSU RELATED LINKS
S.S.K. CLASSICAL WEAPONRY TACTICS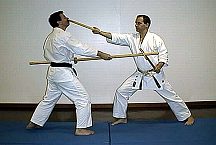 KAMA TAI BO